Note: The event had passed during the creation of this page.
Page had been reference in the CN wiki by Google Translate. Information may not be accurate
September 11 - September 17
Event Rules
During the event, collect a certain amount of fairytale-themed skins and claim a bonus reward.
Once each skin is received, you can unlock the corresponding exclusive story,
Each skin can be purchased at original price, and once purchased, other methods of getting this skin in this event will be closed off.
Story
Rewards
| Number of skin acquired | 4 | 6 |
| --- | --- | --- |
| Rewards | | |
Furniture
| Furniture | Max Amt. |
| --- | --- |
| | 20 |
| | 10 |
| | 1 |
| | 1 |
| | 3 |
| Furniture | Max Amt. |
| --- | --- |
| | 3 |
| | 3 |
| | 3 |
| | 3 |
Skins
Turkey
Turkey Skin Original Price: 9,800 crystals
Discounted at a limited time
TIME
30% off
6,860 crystals
500 times
TIME
30% off
6,860 crystals
500 times
TIME
20% off
7,840 crystals
1,000 times
TIME
20% off
7,840 crystals
1,000 times
TIME
15% off
8,330 crystals
1,000 times
TIME
15% off
8,330 crystals
1,000 times
TIME
15% off
8,330 crystals
1,000 times
Extra Rewards (choose one of the two after purchase)
Foie Gras
Foie Gras Original Price: 3,900 Appearance Vouchers
Discounted by doing 70 Dark Wing? Summons
Dark Wing? can be obtained by doing Airship
Rare Rewards

2%
2%
0.8%
0.2%
Ordinary Rewards

10%
5%
5%
5%

10%
10%
5%
15%

10%
10%
10%
Cheese
Cheese Skin Original Price: 1,500 Appearance Vouchers
Discounted by qualifying challenges
Challenge
Challenge Specifications

Food Soul level are the same as the Master Attendant's level
Food Soul are 3 stars
Food Soul has no Fallen Angels
Food Soul have artifacts

Discount Price
5% off
Clear the challenge within a limited time
1,425 Appearance Voucher
10% off
Clear the challenge within 150 seconds
1,350 Appearance Voucher
15% off
Clear the challenge within 60 seconds
1,275 Appearance Voucher
20% off
Clear the challenge within 10 seconds
1,200 Appearance Voucher
Cassata
Cassata Skin Original Price: 3,000 Crystals
Discounted by qualifying challenges
Challenge
Challenge Specifications

Food Soul level are the same as the Master Attendant's level
Food Soul are 3 stars
Food Soul has no Fallen Angels
Food Soul have artifacts

Discount Price
10% off
Clear the challenge within a limited time with no deaths
3,420 Magic Crystal
15% off
Clear the challenge within 150 seconds with no deaths
3,230 Magic Crystal
20% off
Clear the challenge within 60 seconds with no deaths
3,040 Magic Crystal
25% off
Clear the challenge within 10 seconds with no deaths
2,850 Magic Crystal
Surströmming
Surströmming Skin Original Price: 3,800 Crystals
Complete all tasks to get skin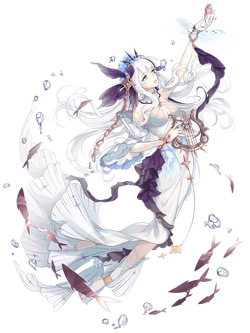 List of Tasks
Complete any Normal Stages 100 times
Complete any Hard Stages 100 times
Fight on Showdown 30 times
Win on Showdown 10 times
Clean Rubes in Restaurant 10 times
Do 30 Team Up?
Complete 20 Replenish stages
Complete 30 Private Orders
Complete 10 Public Orders
Fight Disaster 3 times
Login 3 times in the event
Spend ???$ during the event
Pretzel
Pretzel Skin Original Price: 1,500 Appearance Voucher
Complete all tasks to get skin
List of Tasks
Serve 1,000 customers in the Restaurant
Defeat 10 Dine and Dashes?
Complete 10 Restaurant Tasks
Earn 1,000,000 Gold in the Restaurant
Serve 25 Balcony Guests?
Summon 10 times
Collect 50 spirits?
Purify 10 Spirit
Upgrade Fallen Angel 10 times
Complete 20 Airships
Spend 2,000 Magic Crystals during the event
Complete 50 explorations