The Ice Arena is a place used to restore to restore Freshness

to your Food Souls. It unlocks at Player Level 16. Go to the left screen to access it.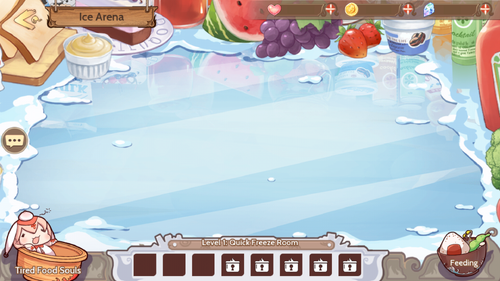 Freshness & Slots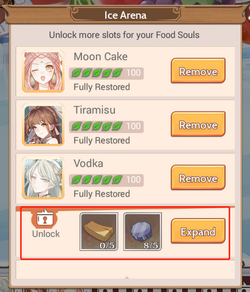 Most Food Souls have 100 Freshness points but Managers and some other Food Souls with Restaurant Skills can have 200, 300 or more points. Freshness is consumed when Food Souls:
are hired in the Restaurant
are hired in the Fishing Hole
are sent on Deliveries
In the Ice Arena, one point of freshness is restored every 15 seconds. Players can also feed their Souls Soul Fruits or Refresh Medicine in the Arena to restore Freshness more quickly. All players start with 3 slots on the first floor of the Arena but can unlock extra slots using upgrade materials. These can be obtained through Exploration, Airship or bought in the Market.
Extra Slots
Note: unlocking the second floor costs 8,000 gold (

).
First Floor
Slot
Required Materials
4th

5th

6th

7th

8th

Second/Third Floors
Slot
Required Materials
2nd

3rd

4th

5th

6th

7th

8th
Trivia
You can play with the Food Souls in the Ice Arena:
Drag them to make them slide along the ice and collide with other Food Souls.
Tap on them for them to say their voice lines.
Tap on them for a hearts effect.
Their victory animations play when fed with soul fruits or refresh med.