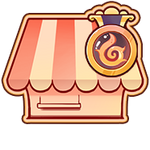 The Medal Shop is a place where medals earned from Showdown battles can be exchanged for Food Soul shards.
Availability
The Medal Shop can be accessed from the Medal Shop icon in Showdown, or from the Shops icon on the main screen. The inventory automatically refreshes every few hours and can be manually refreshed two times a day at the cost of 20 Magic Crystals per refresh.
Inventory
The shop's inventory features shards for certain Food Souls, notably Moon Cake and Vodka, who cannot be Summoned.
| Item | Price per Item | Amounts Available |
| --- | --- | --- |
| B-52 shard | | 1 |
| Hamburger shard | | 1,2 |
| Long Bao shard | | 1,3,5 |
| Mango Pudding shard | | 1,2 |
| Moon Cake shard | | 1,2 |
| Orange Juice shard | | 1,3,5 |
| Spicy Gluten shard | | 1,3,5 |
| Vodka shard | | 1,2 |
| Zongzi shard | | 1,3,5 |