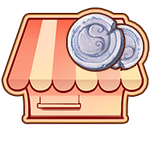 The Tip Shop, or Tips Store, is a place where tips earned from the Restaurant can be exchanged for various items, including Beginner's Seasonings, Exorcist's Gloves, Food Soul shards, Soul Embers and Stamina.
Availability
The Tip Shop can be accessed from the Tips Store icon in the Restaurant, or from the Shops icon on the main screen. The inventory automatically refreshes every few hours and can be manually refreshed two times a day at the cost of 20 Magic Crystals per refresh.
Inventory
The shop's inventory features many shards for Food Souls with Restaurant Skills. It is also the only place where you can buy Exorcist's Gloves and shards for Sushi and Strawberry Daifuku, who cannot be obtained from Summon and whose shards are only available for purchase from the Tip Shop.
| Item | Price per Item | Amounts Available |
| --- | --- | --- |
| Beginner Seasoning | | 1, 5, 10 |
| Exorcist's Gloves | | 1, 2 |
| Soul Ember | | 10 |
| Stamina | | 30 |
| B-52 shard | | 1 |
| Bak Kut Teh shard | | 1 |
| Hawthorne Ball shard | | 1 |
| Jello shard | | 1 |
| Jiuniang shard | | 1, 2 |
| Omurice shard | | 1, 2 |
| Pancake shard | | 1 |
| Popcorn shard | | 1 |
| Pudding shard | | 1 |
| Sandwich shard | | 1 |
| Skewer shard | | 1 |
| Strawberry Daifuku shard | | 1 |
| Sushi shard | | 1, 2 |
| Takoyaki shard | | 1 |
| Ume Ochazuke shard | | 1, 2 |