World of Warcraft: Dragonflight - The Loop
Play Sound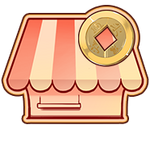 The Token Shop, is a place where tokens earned from Sky Showdown battles can be exchanged for Beginner Seasonings, Food Soul shards, and Soul Embers.
Availability
The Token Shop can be accessed from the Shops icon on the main screen. The inventory automatically refreshes every few hours and can be manually refreshed two times a day at the cost of 20 Magic Crystals per refresh.
Inventory
The shop's inventory features shards for certain Food Souls, notably Canele, who cannot be Summoned.
| Item | Price per Item | Amounts Available |
| --- | --- | --- |
| Beginner Seasoning | | 10 |
| Soul Ember | (price for 120 embers) | 120 |
| Random UR Shard I | (980 per shard for 10 shards) | 1,10 |
| Random UR Shard II | (980 per shard for 10 shards) | 1,10 |
| Random SR Shard I | | 1,10,20 |
| Random SR Shard II | | 1,10,20 |
| Canele shard | | 1 |
| Brownie shard | | 1,2 |
| Chocolate shard | | 1,2 |
| Cold Rice Shrimp shard | | 1,2 |
| Dorayaki shard | | 1,2 |
| Miso Soup shard | | 1,2 |
| Napoleon Cake shard | | 1,2 |
| Tangyuan shard | | 1,2 |